Claind, Italian manufacturer of gas generators since 1979, has launched a new compact air compressor. It has the power of an industrial compressor, but made it suitable for the laboratory.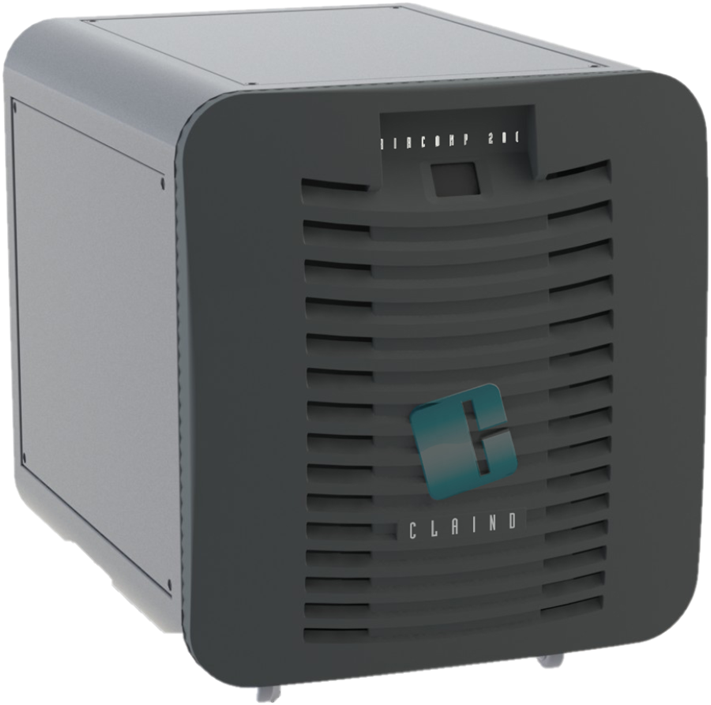 The compressor delivers 180 Nl/minute of ultra dry oil-free compressed air suitable for feeding all nitrogen generators. Also suitable for general use.
For the lab a low noise level is important and the AirComp 200 is therefore quiet (< 58 dB). For years Claind has identified the most important wishes of laboratory users and integrated these into the AirComp 200. This makes the AirComp 200 unique!
Lowest noise level in the market
A pleasantly compact, aesthetic compressor that can be placed under the lab table. Ideal for the laboratory.
The AirComp 200 has a high production capacity (180 Nl/minute at 8.5 bar). Depending on the desired flow, the speed is automatically controlled so that in most situations only a small part of the capacity is used. The effect of this is:
a low electricity consumption;
Reduced engine load resulting in longer compressor life;
that it is low-maintenance thanks to the variable speed and low temperature that is released.
A built-in membrane dryer provides ultra dry air (Outlet Dew Point -60°C).
Lastly, the AirComp 200 is remotely controllable from the PC or smartphone and Operating parameters can be monitored in real time.
Specifications

| | | |
| --- | --- | --- |
| Flow Rate | 180Nl/min (210 l/min FAD) @ 7 bar | |
| Technologies employed | Oil free SCROLL compressor with Universal Power Supply and Electronic Speed Control | |
| Output pressure | 6 ÷ 9,5 bar | |
| Air output characteristics | Particulate = 0,01 mmm, Moisture=  -60°C dew point ATP @ 9,5bar 50Nl/min | |
| Electrical Supply | 230 Vac ± 10%, 50/60, Hz 2,5kW | |
| Index of protection | IP20 | |
| Noise | Minimum: 54 dBA    Medium: 58 dBA | |
| Operating temperature | 5°C – 40°C | |
| Environmental Humidity | Max 90% without condensation | |
| Max Altitude | Tested up to 2000 m from the sea level | |
| Dimensions | Height: 79,5cm, Width: 68cm,  Depth: 83cm, Weight: 148kg | |
| Pneumatic Connections | Purified Air Output: G 1/2" female | |
This post is also available in: Dutch